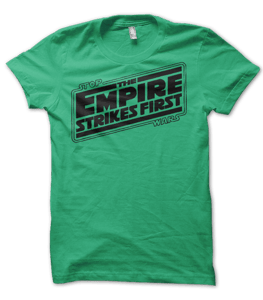 $

26.00
Critique of US post-911 policy of preemptive war, set to "The Empire Strikes Back" theme.
Black water-based ink printed on American Apparel Men's "Poly-Cotton Short Sleeve Crew Neck" in Heather Vintage Green.
Enter coupon code "DECKTHEHALLS" to get any StopWars.com shirt for 15% off - for a limited time only, sale ends on X-mas!
Enter coupon code "TRILOGY" to get three StopWars.com Trilogy shirts for the price of two!
View the sizing chart here.
As always thank you for your business.